Dear Web Sheriff Web Cowboys,
So you are still whinging on about your fucking injunction?
I would like to throw some facts in your direction.
1. My software is even more intelligent that I gave it credit for. Every one of your mails goes straight into my Junk folder, simply because my Thunderbird recognises it for the junk that it is. I therefore don't see it except by accident.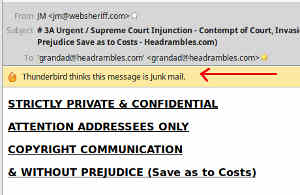 2. I live in Ireland. Got that? It is a republic [or it was until the EU annexed it] and for the last hundred years or so has had fuck all to do with your courts in the UK. You may have a "super injunction" that applies to England and Wales but it ends there. Your precious injunction has no meaning whatsoever here, and quite right too. I have pointed this out before, but you either are incredibly dense or you think I can be intimidated by threats.
3. This is old news. It may interest you to know that in the last week my original piece has been read a mere four times and my follow-up piece wasn't read at all.. But you insist on banging on about it, once again drawing attention to it. You are obviously great fans of the Striesand Effect?
4. You persist on whining on about your "client / principal" without telling me who your fucking "client / principal" is which sort of defeats the purpose of your mails. How am I supposed to know who your "client / principal" is in order to remove them? I can only assume you mean Elton John and David Furnish, as you never actually mention them.
5. This site uses a thing called Content Delivery Network, which means that copies of my posts are stored all around the world. If I remove any articles, their ghosts will still remain in numerous places and there is fuck all you or I can do about it.
6. You have made some additional points in your latest mail [which incidentally I only found by accident, and I missed your second one altogether] and maybe I should address them?
The above, fundamental principal is, of course, also backed-up in this instance by both the Judgment and the Injunction (as defined in our previous correspondence), plus Article 8 of the European Convention on Human Rights, which protects all citizens of the European Union / treaty signatory countries from gross invasions of their private lives (again such as in this instance).
OK, so your judgment still stands, and I repeat – it applies to England and Wales, not Ireland [*sigh*]. Quoting the European convention on Human Rights means nothing in this case as they haven't ruled on this matter, so far as I am aware.
Again irrespective of the relevant laws in the United States or elsewhere, if the published content complained of is accessible in the United Kingdom – and which it clearly is in this case – then this again constitutes a clear and unambiguous violation of the Injunction and amounts to a contempt-of-court.
What the fuck has the United States got to do with it? And I can't help it if my site is readable in the UK. Maybe you should take that up with the people who run the Interweb? Would you be happy if I put a banner on the post saying "If you live in England or Wales it is illegal to read this and you are breaking the law"?
We would add that, in certain circles, much 'noise' is being made about this matter as being a battle for freedom-of-speech – whereas, in actual fact, it is nothing of the sort … .. this is not a matter of national security or high political intrigue and where there is a corresponding 'right' to know … .. instead, it is simply a matter where the right-to-privacy prevails – as, of course, is recognised by the European Convention on Human Rights, ergo all countries of the European Union and for the benefit of their citizens.
I should point out that the only people making "noise" about this yourselves. The rest of the world doesn't give a flying fuck and have moved on to more interesting subjects. It is dead news, but you persist on dragging it up again.
Regarding free speech, and the right to privacy – I agree on the general principle. However your "client / principal" [Elton John or David Furnish?] has placed himself in the public spotlight, and in fact his very career depends upon it [assuming it is of course Elton John or David Furnish]. Being in the spotlight he must be aware that he can't pick and choose what people say. The ability to take out a "super injunction" is something that is denied those of us who aren't rich or famous and is therefore in my book an abuse of privilege rather than a freedom of speech issue. I would also point out that I am only writing about something that is freely available on many other sources.
7. If you had written a nice short letter in the first instance asking me politely [pretty please?] to remove the article I may well have done so, but your insistence on sending me threats and copies of your precious injunction is only going to get my back up.
Fuck off.
Grandad