Cannot be named in England and Wales
UPDATE:
I have just received what purports to be a legal threat telling me I cannot name names [but they can't tell me who as there is an injunction involved]. I am therefore removing any names from the following article just to be on the safe side and replacing them with pseudonyms. My apologies to [redacted – Reggie D White] and his partner [D. Furniture]. Far be it from me to slur the name of a singer of such classics as "Rocket Man", "Goodbye Yellow Brick Road" and "Crocodile Rock"?
Please note that whoever you think I'm talking about is probably not the people you think I'm talking about. It could be someone else altogether.
END OF UPDATE.
In the course of my morning readings, I stumbled by The Last Furlong.
Remember those people who cannot be named? This is about them…
Unfortunately the link was dud [but is since fixed]. Now I vaguely remember the story as it broke a few weeks ago, but I had ignored it at the time. However my interest was piqued [as they say] so I decided to investigate further.
So It transpires that "Reggie D White" and his partner [redacted] have been naughty boys and have been indulging in a little threesome [or three].
Now I have absolutely zilch interest in "Reggie D White". As far as I am concerned, he is some bloke who produced a couple of good tracks back in the Seventies and has a bad taste in spectacles. I have less than zilch interest in "D. Furniture" as I haven't the foggiest who he is [apart from hanging around with the other "Mr White"]. I assume there is a third bloke somewhere otherwise it wouldn't have been a threesome, but unless it was Prince Charles I just don't care. [If it had been Prince Charles it would be worth a giggle?]
So why are these two so desperate that I don't read their little sordid tale? I don't give a flying fuck what they get up to. Their antics are about as important to me as the private life of a pigeon in Waterloo Station, yet these two somehow throw their money about and waste the Courts' time by taking out injunctions forbidding anyone from mentioning their sordid little games. If they are so fucking embarrassed by their antics then they shouldn't have indulged in the first place?
I have to laugh though. If they had just kept their head down the whole thing would have died the death within milliseconds, but as it is they have illustrated to perfection the Streisand Effect. They deserve all they get from trying to muzzle free speech, and may the story roll on and embarrass the fuck out of them.
Don't they know that the Forbidden Fruit is the sweetest? Like kids trying out cigarettes, the more you try to prevent things the more people will want to try them. It's human nature.
What a pair of tossers!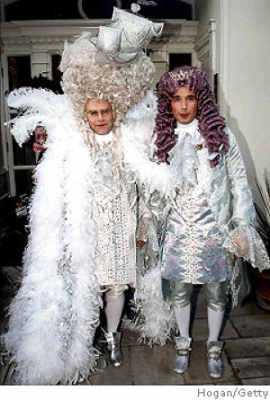 Please respect these gentlemen's desire for an inconspicuous and private life!
And before I forget – I wrote this is Ireland and it sits on my little server also in Ireland, so yiz can fuck off with your injunctions!