I like today.
I'm not talking of all that paddywhackery that goes on around the world, where everybody suddenly has to be Irish and dress up in silly outfits and the like.
I just take Paddy's Day as a little landmark on the earth's orbit of the sun. You could choose any other day around this time, but Paddy's Day just happens to be a convenient date that I'm constantly reminded of.
Today, for me, marks the and of Winter. Somehow snow or frost after this date has lost its sting and we are well on the way towards bright evenings and short sleeved shirts. The snowdrops are pretty much finished, the daffodils are in full glorious flower [up in the heights here, things tend to flower a bit later than everywhere else] and soon the trees will be turning green.
Soon we'll be putting the clocks forward [with the associated confusion] and I'll be getting the chairs out so I can sup coffee in the garden. Good times are ahead.
Of course there are those who choose to embarrass themselves by buying green suits [what the fuck do they do with those suits for the rest of the year?] and put on floppy green hats and orange beards. Do they realise just how fucking stupid they look? Mind you, it makes them much better targets, as today is the opening of the Tourist Shooting Season.
I took a little snapshot a few minutes ago [thanks, Interweb].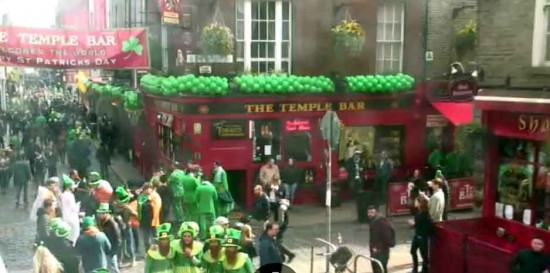 I reckon there is just one Irish bloke in that photograph. He's wearing a pale coat, bang in the middle of the photograph leaning against the pub wall, looking somewhat bemused.
The rest are just an embarrassment.
Actually, I quite like that!
An Embarrassment of Tourists?