The Jamie Oliver Phenomenon
I am trying to get my head around this business of Jamie Oliver and the sugar tax.
For a start, who is Jamie Oliver? Well, he's a cook. He cooks meals: nothing more, nothing less. Basically he's a burger flipper. The fact that he is seen as a "celebrity" and has a "cheeky chappie" approach does not enhance any of his non-existent qualifications and just makes him an intensely irritating little cunt who makes my eyes and ears bleed.
Suddenly and for no apparent reason he has decided that he is the Saviour of the Future Generations and is lecturing an entire country, telling them what to eat. What fucking business is it of his? Why has he got this sudden obsession with the obesity so called crisis? Why has he got his knife into sugar? Why should a cook suddenly have the authority to attempt to dictate what kids eat?
Even more mysterious is the fact that people actually listen to him. Is he an expert in nutrition? No. Has he got some incredible insight into the causes of obesity? No. Was he born of a virgin and can walk on water? No. He has the ability to throw a few ingredients in a pan and make a meal, and that is the be all and end all. I do all that on a daily basis, yet he apparently has the power to hector his gubmint into introducing an extra tax that has no merit whatsoever except to penalise the poorer in society?
To some extent, this is the same phenomenon that allows the likes of Bono and Bob Geldof appoint themselves the ultimate wisdom on poverty in the Third World. The fact that they produced a few records grants them access to the Corridors of Power and lecture those in power about how they should conduct business.
Of course most people don't give a damn about a "sugar tax" because they don't buy much in the way of fizzy drinks. The vast majority will shrug and say so what, and those that think they have a right to dictate how others live will jump for joy. What they don't seem to realise is that this is the thin end of yet another wedge. A little tax now will become a big tax tomorrow. A fizzy drink now will become virtually the entire "non-approved" food chain tomorrow. Already the subject of a sugar tax is rearing its ugly head here in Ireland, and if it arrives I will place the blame entirely at Oliver's feet.
These "sin taxes" are a great way to impose taxes upon taxes. The Righteous can scream that it's "for our own good" while more and more cash is taken from our pockets. Apart from lining the gubmints' pockets, these taxes do nothing except make the poor poorer and satisfy those smug Puritans.
In years to come, people will look back and remember Jamie Oliver for what he is – an overweight irritating little pustule on the arse of humanity. And judging by the amount of sugars in his recipes, as an outstanding hypocrite as well.
He deserves nothing less.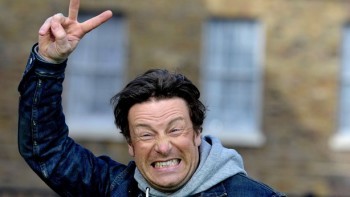 The epitome of an egotistical wanker