I dropped by Frank's place this morning.
I was surprised to see that he had never heard of our beloved James Fatso Reilly. I can't have been doing my job properly? Time to set the record state.
In the interests of fairness, I give you his official election photograph, and the grim reality that lies behind a hefty drop of Photoshopping.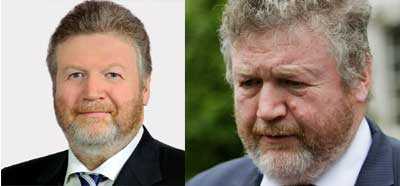 Fatso is a doctor from the north of Dublin and is [was?] the deputy leader of the Fine Gael party who formed the last gubmint. I might add that he is one of the least healthy looking doctors I have ever seen [maybe he should go back on the fags?] He immediately put his name forward as Health Minister, vowing to put the wreckage that is our health service back on track.
Very quickly it became apparent that he was a rabid anti-smoker of the worst kind and devoted his time to pushing further restrictions and levying higher and higher taxes on smokers. While the health service lurched from crisis to crisis he spent his time in front of the cameras with his favourite toy.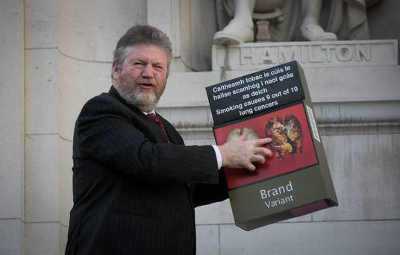 He appeared regularly in the papers and television, usually accompanied by his favourite box and usually surrounded by a load of kids all carrying placards demanding the introduction of plain packs. I would imagine each and every one of those kids is now on a forty a day habit, never having heard of cigarettes until he came along.
Eventually it became apparent even to the gobshites in power that he was doing fuck all for the health service and threatening to return Ireland to bankruptcy by begging the tobacco industry to sue Ireland over plain packs. He was demoted to Minister for Children and Tobacco. Things noticeably quietened on the anti-smoker front.
Thanks to Fatso Ireland is now being dragged through the courts by the tobacco industry, costing us a fortune in the process. We have also a thriving smuggling business supplying not only ourselves but the UK as well.
He has been unceremoniously fucked out of his seat in the current election. I would love to think that it was the smokers that gave him the heave, but it was probably just his arrogance, bullying tactics and sheer incompetence that did it.