Today is what I call a brain fog day.
Actually, it's no so much fog as mud or treacle.
Physically I'm grand. Mentally though things are different. I feel like my brain ran a marathon yesterday and it's still in exhausted mode. I have no idea why as I haven't been doing anything particularly strenuous in the mental department of late, apart from trying to work out how a website got hacked and trying to order groceries on-line.
It's not depression [I'm actually quite cheerful] and it's not really apathy, though I would quite like to put today on hold until tomorrow. It's just that the brain just ain't working like it should. My razor sharp mind has become a razor blunt mind.
If I were diagnosing myself I would hazard a guess that I'm suffering from a lack of sleep. The symptoms fit but there is one small snag – I had a grand night's sleep with some quite pleasant dreams for a change. But if you want to reconstruct my present state for yourself my best advice would be to stay awake for about three days [and nights].
I think our Penny has the same problem as she looks just how I feel.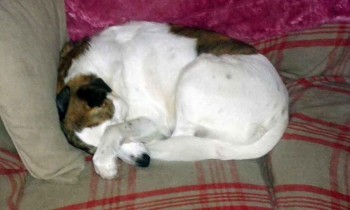 I think the best description is a state of meh.