It's a mad mad mad mad world
In my travels around the Interwebs I come across some strange and wondrous things.
Sometimes I scratch my head in amazement and sometimes I check the date to make sure it's not the start of April.
Take for example an item from our friends in the States.
A six year old boy was suspended from school for using a bow and arrow in a playground. Now you might say there is nothing wrong there, except for one tiny detail – the bow and arrow didn't exist. Yes, it was an imaginary bow and arrow.
Which of us didn't play Cowboys and Indians in our youthful days? Which of us didn't use a stick [usually a hurley] as a rifle to shoot all our pals in play? Which of us didn't shout "bang bang you're dead"? In our halcyon days we spent our time in mock battles, just as puppies, kittens and the young of most species do and it was fun, with a little bit of life's lessons thrown in. It's called fun. It's called play.
But apparently that is not Politically Correct these days.
"These games are not appropriate in a Catholic school or any other school setting. It is not 'fun' and certainly not Catholic to pretend to harm another person."
Sweet suffering Jayzus but what is the world coming to?
–
And while I'm on the subject of our Mercan friends, I came across another item that had me wondering if I had somehow dropped into a parallel universe.
Just take a look at this –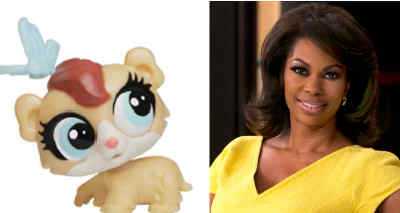 Aren't they so alike? Like identical twins that were separated at birth? Isn't it almost impossible to tell them apart?
No?
Well apparently the bimbo on the right thinks they are and wants to sue the toy company. She says the toy wrongfully appropriates her name and persona, harms her professional credibility as a journalist and is an insult. She wants five million dollars in compensation!
Elements of the Harris Faulkner Hamster Doll also bear a physical resemblance to Faulkner's traditional professional appearance, in particular tone of its complexion, the shape of its eyes, and the design of its eye makeup.
What. The. Fuck?
As was pointed out in court [yes, this actually went to court] "Ms. Faulkner is an adult, African-American, human, female newscaster; the Hamster Toy is an inch-tall, cartoon-like plastic animal, which has no apparent gender or profession, or even clothing that might identify its gender or profession."
Well, blow me down with a feather but I never would have noticed.
You think I'm making all this up don't you?
Well the fist item is HERE and the second item is HERE.
In the meantime I'm off to sue the makers of My Little Pony for plagiarising my persona and destroying my reputation.
And if they don't cough up ten million dollars I'm going to drop an imaginary bomb on them.