September is not my favourite month.
Of course, as a kid it meant Back to School and the prospect of homework, beatings, drudgery and all the other joys of schooldays. This may have blighted the mention of the month for future years?
Now though it means darker evenings and cooler temperatures [not that temperatures this year could get much cooler without an ice-cap forming]. The only good thing about September is that at least the clocks don't go back. That is an event which is postponed for another few weeks, a bit like getting a month's reprieve on death row.
September was the month we went to France. Usually we would go for three weeks [and with stopovers and ferry crossings that really meant four weeks] and once we went for four weeks, giving a five week break from home. Going to France in September meant less traffic on the roads, cheaper renting and no fucking kids under our feet, yet the temperatures in the Dordogne were still higher than we would get anywhere here in July or August.
I loved going to France and that was partly down to the driving. I just loved driving in France. Unfortunately that is also its disadvantage as Herself isn't that fond of long drives, and that is one of the reasons why we don't go there any more. The only other way would be to fly and then hire a car, but that would add enormously to the cost and would somewhat restrict what we could bring. Also we aren't exactly great fans of airports.
Our last trip a few years ago was not the best of holidays. We didn't head so far south, so the weather was almost Irish and the scenery was also somewhat lacking. I'm glad we went though as it somewhat watered down our ambitions to go back again.
Things could be worse though.
I could be stuck in the UK where they are having one of those Nanny Events which are given the most tacky squirm inducing names that they can think up. This one is called Dryathlon, which is way up there with Stoptober and Movember. Fucking nauseating names, and whoever thinks them up should be eviscerated and nailed to an ant-hill in the middle of a desert.
Cancer Research [UK] have dreamed up this brilliant idea where people torture themselves for a month and then give the proceeds to a charity which is one of the greatest supporters of the Bully State. Why the fuck anyone would want to give up the drink just to give cash to a "charity" that is already rolling in cash is way beyond me, but then that's the modern generation – give something a tacky name [and of course the mandatory "hashtag"] and they all roll in because all their mates on Twitter or Farcebook are supposed to be doing it [but probably aren't]. To me it's just further proof that the Nannies reckon people are never happy unless they're miserable.
A picture of perfect happiness? –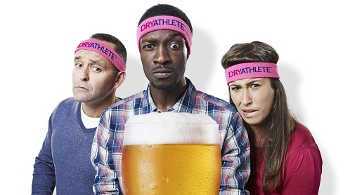 I rest my case.