An astounding scientific discovery
I have discovered a new and completely unexpected use for my menhir.
I noticed the feature a week or so ago, and have been marveling at it ever since.
It is an excellent weather indicator.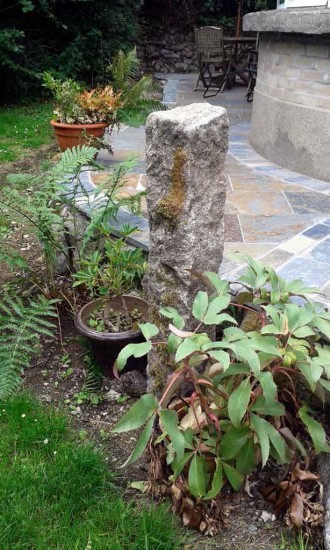 I have drawn out a list of its indications, but every day I find new items to add to that list.
All I have to do is look at the menhir and it tells me what the weather is doing. Isn't that just crazy?
If the stone is dry, it means it's not raining.
If the stone is wet it means it's raining.
If it's wet on one side only, it's raining and windy.
If it's casting a shadow, it means the sun is shining.
If it's white on top, it means it's snowing [this one is theoretical as I haven't tested it yet].
If I can't see it at all, it means it's either foggy or low cloud.
If it's swaying gently from side to side, it means there is an earthquake.
If it's steady but I'm swaying gently from side to side it probably means I have been down the pub.
If it's not there at all, it means either a hurricane or tornado, or else some fucker has thieved it.
If it's rotating slowly, it means my latest horticultural produce is stronger than usual and an excellent crop.
Isn't it amazing how much can be gleaned from one simple stone pillar? If you look at the photograph you can see what I mean. It is dry but not casting a shadow which means it's not raining and the sun isn't shining, ergo it's cloudy. Isn't that clever? It looks white on top but that's merely a "feature" of the photograph [i.e. a shite phone camera].
I have a project for the future. I have discovered through repeated observations that when the sun is shining [which is pretty rare this year] it casts a shadow which actually moves during the day. Isn't that amazing? So I have had this ingenious idea of painting little numbers on the grass and surrounding terrain so I can tell what time it is. I haven't quite worked out how it will work after sunset but that is just a minor challenge. Maybe I can work out something for the length of the shadow too?
At this rate I can open it to the public and charge admission. Maybe I could interest the Meteorological Office? It's a damned site more accurate than their predictions.
Have to go out into the garden now.
It's casting a shadow which means the sun must be shining.