Herself was browsing around Farcebook the other evening.
"Good Grief!" says she [or words to that effect] "Take a look at this!"
I took a look and this is what I saw –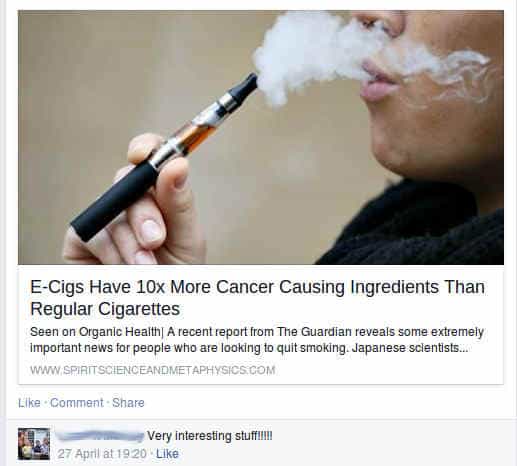 Herself has an electrofag which she uses quite a lot and this alarmed her to the point where she looked even more worried than usual.
I followed the link and it led to a site called Spirit Science and Metaphysics, which in turn cited Organic Health. Both site names rang my internal alarm bells and when I read the content my worst fears were confirmed.
Both these sites had written their bilge laden nonsense on foot of the infamous Guardian article which has been widely and rightly discredited as a steaming pile of elephant dung.
I calmed Herself down and explained why it was junk science, but unfortunately I haven't the luxury of doing that with everyone who saw that Farcebook rubbish. And this is where the problem lies.
People on Farcebook love to put up snappy items which are designed to startle. They then ask people to pass them on so that ultimately they spread like wildfire. Readers tend not to go beyond the snappy headline ["10x More Cancer Causing Ingredients? Wow! I must pass this on."] and few read the actual article. Those that do read the article are taken in by the "something must be done" breathless reporting and almost none go any further. If they had even gone as far as the comments in the "Spirit Science" site they would have seen some enlightening comments which soundly demolish the article as alarmist and junk.
Farcebook is rife with what I call the Cesspool Effect. This is where the shite floats to the top and is the only thing visible to the public. The alarming and the startling grab the attention and get passed around. The dull truth gets ignored and sinks without trace. It has reached the stage where I don't take anything at face value from Farcebook. If it might have some interest, I immediately research it and 99.999999% of the time, it's crap. Unfortunately the Farcebook generation has the opposite reaction – if it's on Farcebook, it's true.
Herself is back happily using her electrofag, but how many others have been taken in and now believe electrofags are ten times worse than cigarettes?
Farcebook is dangerous.