I had a lovely little booklet shoved through my letterbox the other day.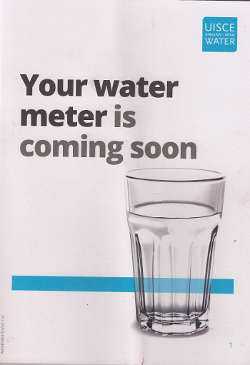 Now I'm not quite sure as to the purpose of this booklet. By the cheery title it looks like I am supposed to organise a massive party to celebrate the impending arrival. That "coming soon" has a breathless air of anticipation about it and strongly implies that I should cancel any further plans in case I miss the wonderful event. And the use of "Your" is no doubt meant to make me feel all inclusive and cuddly. My meter? Wow!
I haven't read the booklet, but did give it a cursory skim-through. It's the usual guff about how this is going to save gazillions of gallons of water which is a little strange as 99% of the wastage is in the distribution system and I can't see how a little meter outside my gaff is going to solve that [unless of course it is sneakily going to be measuring the primary supply main to Dublin?].
I presume they will knock on my door when the Great Day arrives? They warn me that my water will have to be switched off during the installation and that I might like to switch off my central heating too.
I shall not be waiting with baited breath. If they come, they come but it's no skin off my nose. I'll tell them they can do whatever the fuck they like out on the lane as it has nothing to do with me, but will inform them clearly and succinctly that they are not allowed inside my gate. Any trespass will be dealt with in the appropriate manner which may or may not but most likely will entail the involvement of ambulances or even undertakers.
They can fuck around all they like out on the lane, because the little pot they installed to house the meter is nowhere near my water supply. I'm fairly sure I know where the supply pipe is but I am damn sure they haven't a clue as they have missed it by a mile.
It will actually be quite interesting when they install their little meter and switch on their water to test it. All they will do is irrigate a clump of brambles beside my gate, because that's where I stuck the end of their little pipe [exactly two years ago, as it happens].
On second thoughts, I think I will cancel appointments and wait for them to come.
It would be worth it for the laugh.