Black and white photography
We have a visitor here at the Manor.
The daughter's dog stayed overnight and the place is in a right state of chassis.
Cola is a lovely dog. She is big, black and hairy and lives under the illusion that she is a small cute puppy. As a result she tends to crash around the place sending things flying and knocking things over. She also has a major fascination with me for some reason so I have to keep yelling at her to stop trying to climb on my lap.
Penny gets on very well with her, but there are tinges of jealousy. Strangely enough it is usually Cola who is the jealous one so I can't go near Penny without Cola crashing on top of me demanding affection. And when she crashes, she crashes. As I said – she's big [and heavy].
To add to the confusion, the neighbour's dog has more or less taken up residence here so between the three of them the garden is now ripped to shreds with mud, grass and debris spread all over the gaff.
I tried photographing Penny and Cola and there I ran into a problem. You see, Penny has a pure white coat and Cola is pure black. So whatever exposure I use, I either underexpose one or over expose the other.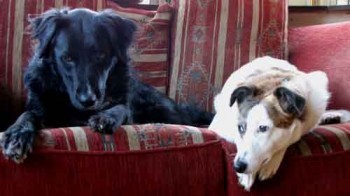 Maybe I should re-take that photograph now?
They are just back in from the garden and both are equally mud coloured.
As is the couch.