They have painted over a Banksy piece of art.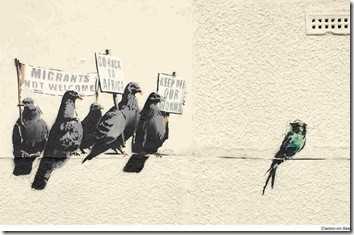 It had to be done. Someone, somewhere might have been offended.
You see, there are people in this world whose sensibilities hang on a razor's edge, and who will be offended by the slightest thing, be it art, literature or humour.
We couldn't have that now could we?
Of course now they'll have to destroy all Michelangelo's works? They are predominantly religious in subject and we wouldn't want to offend atheists, would we?
And that statue of David is positively pornographic.
What about that Mona Lisa tart? I swear she is having sexy thoughts, and that to me is grossly offensive.
Maybe it would just be safer to destroy all artwork?
And while we are at it, all literature will have to go too.
And speech.
Can't be too careful?