A cartoon has been published in an Australian newspaper.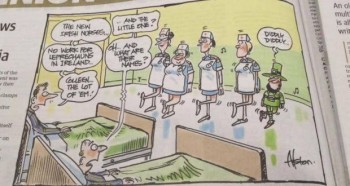 Click to embiggen
People have apparently been offended.
Aw diddums.
What do I think of the cartoon?
It's not clever, nor even mildly funny. I have seen far better on toilet walls.
Am I offended?
Not in the slightest bit. A cartoon cannot offend me unless I choose to be offended. And I choose not to.
What do I make of the paper publishing the cartoon?
Absolutely 100% weapons grade, industrial strength pure indifference. If they want to publish poor cartoons that's their business. It doesn't affect me,
What does annoy me is that some group who apparently set themselves up as representatives of the Irish should actually complain to the newspaper.
Why can't these whingers grow some balls?