Twitter has resorted to sending me emails.
"So much is happening right now on Twitter" they say, and they are probably right. Equally so much is happening in my septic tank, and the sound of all those bacteria munching on my poo is probably similar to the sound of Twitter.
They keep on at me to get involved and to "build a timeline" [whatever the fuck that is]. "You'll see how quickly Twitter becomes an invaluable part of your life." they promise, the thought of which sends nasty shivers racking up my spine. I have a life and I cannot see how Twitter could in the remotest fashion fit in with it.
To inveigle me to become more active they keep suggesting people I should "follow". They keep suggesting the same three people too.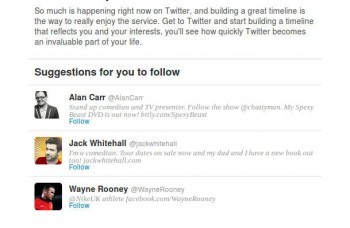 I had the misfortune to experience Alan Carr the other night. I didn't switch off after some programme on television and he was on next. It took three large whiskeys to settle my nerves. The man [and I use the expression loosely] has a voice like a nail on glass. He is ghastly, and why Twitter thinks I would be remotely interested in him baffles me.
I had to look up Jack Whitehall. I had never heard of him, but apparently he is a comedian. I'm sorry, Jack but I ain't going to follow someone I have never heard of. Equally you have never heard of me so feel free to ignore me too.
As for Wayne Rooney. Wayne fucking Rooney? I hate football and footballers. A rabble of grossly overpaid egotists chasing a fucking lump of plastic around a field? And Rooney is second only to Beckham in the prima donna stakes? What little pearls of wisdom can this bloke possibly come up with to make him an invaluable part of my life? If he was the only person who could lead me to safety in a war zone, I still wouldn't follow him.
If their three choices are anything to go by, Twitter are remarkably out of touch with reality.
But then I have been saying that all along anyway.