Seeing who has the biggest
Normally I don't give a flying wombat about foreign affairs.
What people get up to in the comfort of their own countries is their own business and none of mine.
I have been somewhat bemused though at the international hissy-fits being thrown at the Crimea business.
We have the EU screaming that the vote over there was "illegal" and "illegitimate". Now, coming from the EU that is really fucking rich. These are the same people who refused to accept the democratic wish of the Irish and forced us into a series of repeats until "we got it right". Also there is the small matter that the powers that be in Brussels aren't elected so why the sudden interest in democracy? Apart from that, why are they so interested in Crimea anyway? It's in Asia, not Europe and is none of their business.
Then we have the Merkans screaming. The only problem is that I'm not sure what they are screaming about? Do they also think the referendum was "illegal" and "illegitimate"? If so, why? They people were given a chance to vote and the fact there was only one option on the ballot paper is irrelevant – you vote "yes" or you don't vote. If that isn't an acceptable form of voting then it's up to the people of Crimea to say so, and not the Merkans or the EU. Once again it is none of the Merkan's fucking business what goes on in a foreign country in a foreign continent on the other side of the world.
So what is behind all this posturing and the shouting of "my penis is bigger than yours"?
I have a funny feeling it has nothing at all to do with democracy.
I have a feeling that the Merkans and Brussels know that the Russians have the biggest penis in the area and it's berthed in Crimea.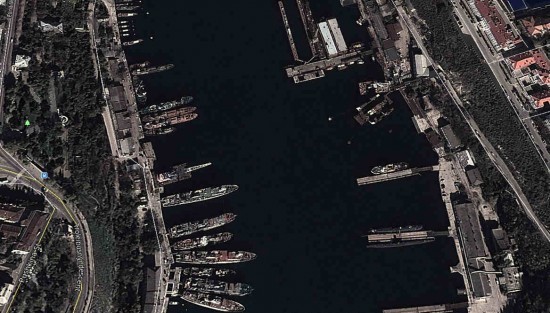 Sevastopol Naval Dockyards