There is something I have been meaning to do for a while.
I finally went and did it.
It was just one of those idle brain-fart ideas where I thought I would plot every holiday I have spent in Ireland.
That is not so easy as I haven't a clue what years I went where when I was young, so I decided to confine it to years since I was hitched shackled married. This meant going back over nearly forty years but luckily i had kept records for some of that time.
The strange thing is that I have records of holidays I don't remember at all. Apparently we spent a holiday in a place called "Quilty" which could be the name of a place or a house or even the name of the people who ran the joint. I do vaguely associate the name with a rather genial couple so it must have been a bed and breakfast place. It was in County Clare, where there is a village called Quilty but I don't ever remember being there.
Then there are memories of events and places that have no records, such as eating a beautiful dish of wild salmon in a place on Valentia Island, so we must have had a holiday near there at some stage.
There were a couple of surprises. We spent one holiday [1985] in a wooden chalet which I expected to be long gone, but it's still there. Then there was a beautiful country hose hotel in Dunmore East [1999] that we loved, but that's just a hole in the ground now.
So my quest to map all my holiday destinations remains incomplete which is a pity.
I think we have the island fairly well covered though?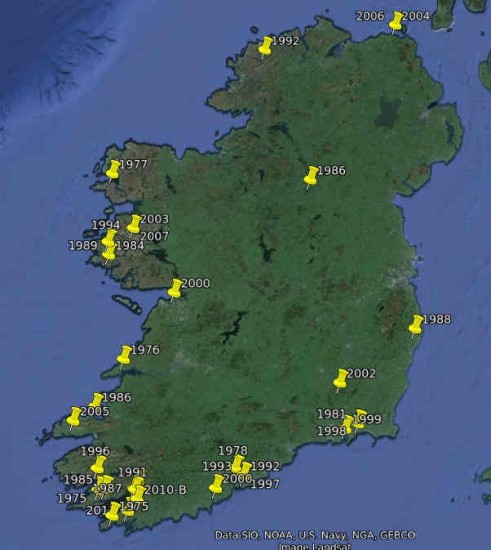 UPDATE:
Cat has risen to the challenge.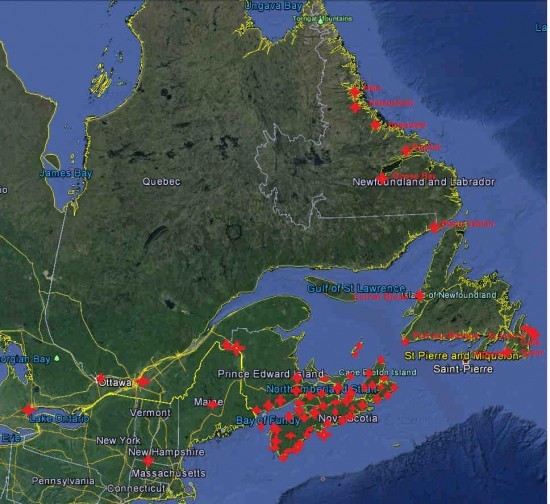 Damn! Either Cat is a holiday fanatic, or I haven't been going away enough…….