I have just added a new little badge to the side.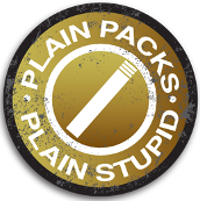 So why should you care about plain packs? You're a non-smoker so it doesn't affect you? Or you are just not bothered what your smokes come in?
This plain packs move affects everyone. If you smoke, drink or eat any food whatsoever, it affects you.
How?
Plain packs are the wet dream of the health fascists. They have come up with the idea that packaging cigarettes in identical drab boxes covered in lurid images of diseased bodies is somehow going to "nudge" people into a "healthier lifestyle". So far, Australia is the only country to try this experiment and it has failed abysmally. The only effect they can report on is a marginal increase in calls to a quit-line. The real story is that smoking rates are virtually unchanged, but there has been a massive increase in counterfeit cigarettes leading to a huge drop in tax revenue. So there is a good reason for non-smokers to worry – Revenue are going to have to try to make up that tax shortfall and that will hit everyone.
Probably the biggest reason why everyone should be concerned is the Slippery Slope.
If the Tobacco Lobby get their way on this one then all the various other lobby groups will wade in on the coattails. Already there have been calls for all drinks [including your favourite wine] to be plastered with images of diseased livers and for large "health warnings" to be placed on food. Do you really want to live in that drab humourless colourless world where you are constantly nagged from every shelf in the supermarket? If plain packaging for cigarettes comes in, then so will the rest. That is a cast-iron guarantee.
But what about the chiiiildren?
What about them? There is no proof whatsoever that any child starts smoking because he or she is attracted to the packaging. Kids start smoking because they are offered one by a pal, or they sneak a few out of their parents' packs. It has absolutely nothing to do with packaging. And anyway this move has nothing to do with children and everything to do with stigmatising a large minority of people for no reason other than to satisfy a few health fascists and to bolster the ego of an obsessed Minister for Health.
Don't say I didn't warn you.