Every now and then I come across a web site that intrigues me.
I came across one such site a couple of days ago. I had been looking at weather forecasts, trying to work out what the fuck was going on and I came across Earth Wind Map.
I took a copy of the screen yesterday –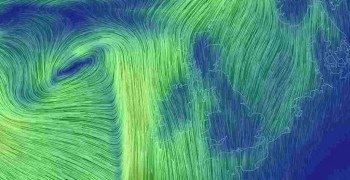 I was particularly intrigued by the very sharp front off the west coast of Ireland. None of the weather forecasts I saw mentioned anything quite so dramatic – they just forecast Strong Gale to Storm force winds "easing gradually". I waited to see what would happen.
I woke this morning to the sound of the gale. It was doing its usual damnedest to rip the roof off the house and I resigned myself to losing another tree or two. Penny steadfastly and wisely refused to even nip out for a pee, it was that bad.
Around Midday it suddenly stopped. One minute – ferocious winds, next minute – dead calm. It was weird and impressive. Obviously that front had passed over.
Penny had her pee.
It's just a lull though.
Lots more strong winds moving in from the west.
I fucking HATE wind.
*sigh*