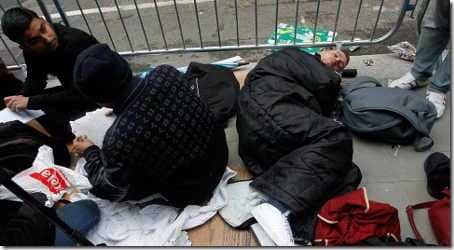 Homeless living rough on the streets?
Drunks?
Pop festival goers?
Street protesters?
None of the above.
What we see here is possibly one of the saddest sights of modern times.
What we see here is sheeple sleeping on the streets in order to be at the top of the queue to buy a fucking mobile phone.
I find that unutterably sad.
I can guarantee you that every single one of the hundreds who queued already had a mobile phone. I can also be pretty confident that their existing phones were by the same manufacturer and probably the previous release. But these sad little tossers don't consider their lives complete unless they have the absolute latest model.
Will the new phone make better phone calls? Does it have some incredible life-saving gizmo that no other phone has? No. It possibly has one or two extra "features" that are completely non-essential but the ad-men have convinced the sheeple that they must have the latest.
Because that is what we are seeing here – sheeple who have been brainwashed into parting with shed loads of money for something that basically will only give them brownie points at a bragging contest. The poor little fucks wouldn't be seen dead without the latest model because that is what the ad-men have told them.
I heard somewhere that one of the great "features" of this phone is that it has fingerprint recognition security. Big. Fucking. Deal. My laptop has face recognition security and I don't use it because it doesn't fucking work. The light has to be right, or my hair has to be combed or something, but it very rarely worked. On the rare occasions that it did work it took and age and it was just simpler to use a password.
So the pubs, cafés and student halls are going to be filled with sheeple flashing their new phones around, showing off their new "features" and trying to make everyone jealous. And sadly they will succeed because those insecure fucks who don't have the latest status symbol will promptly go out and buy one too.
The advertisers' wet dream.
And evolution takes another step backwards.