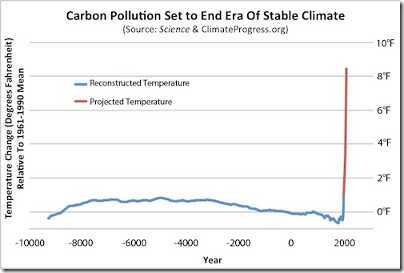 Really?
Yiz weren't so sure when yiz stopped talking about Global Warming and started on about Climate Change, just because none of your predictions worked out?
"The uncertainty is frustrating for government planners: the report by the Intergovernmental Panel on Climate Change (IPCC) is the main guide for states weighing multibillion-dollar shifts to renewable energy from fossil fuels, for coastal regions considering extra sea defenses or crop breeders developing heat-resistant strains."
The key word here is "multibillion". We can't kill the golden goose now, can we?
"Drafts seen by Reuters of the study by the UN panel of experts, due to be published next month, say it is at least 95 percent likely that human activities – chiefly the burning of fossil fuels – are the main cause of warming since the 1950s."
Warming since the 1950s? That must be pretty insignificant if you have to go back as far as the Industrial Revolution to record a temperature rise of 0.8 degrees?
"We have got quite a bit more certain that climate change … is largely manmade," said Reto Knutti, a professor at the Swiss Federal Institute of Technology in Zurich. "We're less certain than many would hope about the local impacts."
What's this? I thought the science was settled? There was no room for doubt? But now you are only "a bit more certain"? You don't sound very sure of yourself?
"The IPCC report, the first of three to be released in 2013 and 2014, will face intense scrutiny, particularly after the panel admitted a mistake in the 2007 study which wrongly predicted that all Himalayan glaciers could melt by 2035.

Experts say the error far overestimated the melt and might have been based on a misreading of 2350."
Ah sure we all make mistakes. What's a mere difference of 315 years between friends? Maybe you mean Global Warming will impact the climate by 21,000 and not the end of this century? After all, it's only a decimal point away?
"The panel will try to explain why global temperatures, while still increasing, have risen more slowly since about 1998 even though greenhouse gas concentrations have hit repeated record highs in that time, led by industrial emissions by China and other emerging nations."
The explanation is simple – your mathematical models are shite.
"An IPCC draft says there is "medium confidence" that the slowing of the rise is "due in roughly equal measure" to natural variations in the weather and to other factors affecting energy reaching the Earth's surface."
That sounds fair enough. Maybe if you look closer you might find that your whole Global Warming scam is due to natural variations in the weather and to other factors affecting energy reaching the Earth's surface?
An IPCC draft projects seas will rise by between 29 and 82 cm by the late 21st century – above the estimates of 18 to 59 cm in the last report, which did not fully account for changes in Antarctica and Greenland.
Fair enough. I'll file that along with the alarming news that the Arctic will be ice-free by 2012 and snow being a thing of the past in 2000 not to mention the Maldives being a thing of the past and all the other wild headline-grabbing sensationalist crap that has failed to materialise?
Listen lads. Do yourselves and the rest of us a favour. Will yiz ever stop with this alarmist bullshit? It has gone beyond tedious.
The only thing that is liable to cause Global Warming is all the hot air coming out of the IPCC.
Just rev up and fuck off.