A few of the more observant of you may have noticed a wee addition to the site?
It's on the side and down a bit underneath the Dog's Bollocks.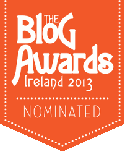 If you haven't seen it then that's OK. I didn't notice it myself until this morning.
Anyhows, it appears that I have been nominated in the upcoming Blog Awards Ireland 2013.
I confess to being a little chuffed about this. You see, I didn't nominate myself as my ego isn't that fragile. Not only that but I only mentioned the Awards thing in passing once before as I didn't want to appear as if I was touting for a nomination. Nevertheless, someone saw fit to nominate my efforts in not one but three different categories – Political [?], Humour and Personal. Whoever you are – thanks. I am flattered and chuffed.
I had a look through the Long List and it really lives up to its name – 1575 [or so] entries. Of course some are in more than one category [I found one site that was in fourteen categories – a little drop of self-promotion there? And they express surprise?].
There are thirty categories which is a little on the heavy side in my opinion. On the awards night, assuming five minutes per category [to allow recipients time to find their way to the stage and to sober up enough to make a wee speech] then it's going to be a two and a half hour marathon, which doesn't leave much time for getting pissed or nipping out for a smoke. But then strangely enough amongst all those categories there is none for Best Pensioner, Best Beard or Best Pipe Smoker which I think is a grave omission on their part.
So what's next I hear you say?
The list goes to the judges to who have to wade through all 1575 and whittle 'em down a bit. The results of that whittling will appear on the 8th of September.
And then that list will be whittled even further and the survivors will be listed on the 29th of September.
And then the winners are announced on the 12th of October.
They like making us suffer?