For as long as I can remember, there has been a little ritual in this house.
Every night, after doing the rounds, locking doors and switching off stuff, the dog would get a little cuddle and a Bonio.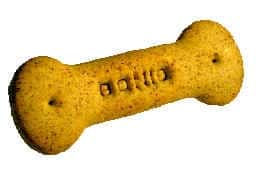 Sandy in particular was very fond of this ritual. She would sit quietly and patiently by my bed waiting for the cuddle and the Bonio. She would sit quietly with her eye firmly on my right trouser pocket, as that was where I kept the biscuit. If I gave her the Bonio without a cuddle, she would drop it and look at me disdainfully until I stroked her head, whereupon she would take the biscuit and bring it to chew quietly just outside the bedroom door. The odd time, just to tease her, I'd give her a broken one. She would give me a look of utter scorn and wait for the second half of it.
When Penny arrived, she copped onto the tradition straight away. Her ritual was to dash into the sitting room, crash onto the couch and then wait for the cuddle and the Bonio. As soon as I started switching off the lights she would run, skidding like crazy on the wooden floor and then crash onto the couch in an explosion of hairs. I would then give her a cuddle, and she would roll on her back but she would be licking her lips in anticipation all the time. As soon as I proffered the Bonio she would snatch it out of my hand and lace into it.
The other night we went through the whole rigmarole – lights off, door locked, crash onto the couch – and I gave her the cuddle. I then gave her the biscuit.
She looked at it scornfully.
It was still there on the couch the following morning.
Since then, the biscuit has been ignored. She eats it eventually but it's no longer part of the old tradition. I have given up bring one in at this stage.
Last night I locked the doors and switched off the lights … no skidding dog … no crash onto the couch. Penny had decided she was going to forgo the cuddle and sleep on her chair in the kitchen.
I came down this morning. Penny was lying on the sitting room couch with the old tail thrashing in welcome. The Bonio was still there. It has been there for two days now.
Penny is obviously no respecter of traditions.