I would like to introduce you to Fluff.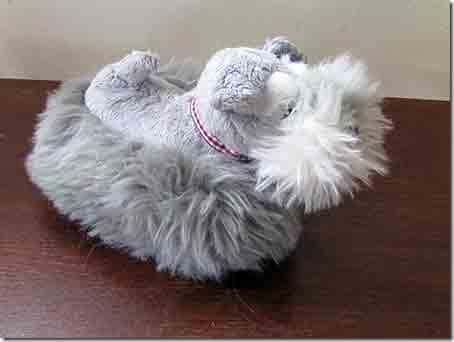 ~
Fluff.
Fluff joined our happy little band some months ago.
I'm not quite sure what he is. Some say he's a duster; others say he is supposed to have a drop of scent dropped on him to make the room smell nice. Or maybe he's just a toy?
Whatever he is, our Penny has adopted him.
One day, some time ago I went to bed and Fluff was happily sitting on a table in his usual mute, stuffed fashion. The following morning he was gone and had reappeared on the spare bed. I didn't think twice about it. If inanimate objects wanted to wander the house at night, who was I to complain? However, over the following days, Fluff got into the habit of transporting himself around the house, and reappearing in the strangest of places.
Then one day, I was sitting here when Penny wandered in. She had Fluff in her mouth, and after jumping on the couch, she very carefully placed Fluff beside her. She prodded him into an upright position and then happily left him and went to sleep.
She is a good mother. She doesn't overcrowd Fluff. She allows him his independence and only occasionally checks him for cuts and bruises, which she does by gently prodding him with her nose. I must say she has brought him up very well. He has never barked and even seems to be fully house trained. He eats very little and requires no exercise whatsoever.
The perfect dog.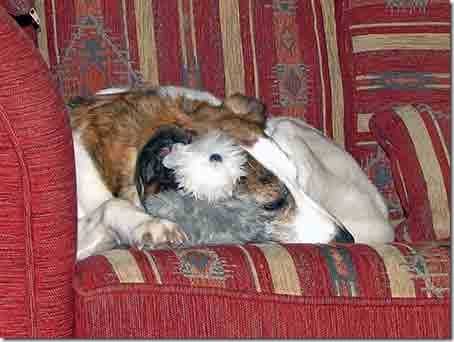 Motherly love.