They are at it again.
The fuckers started at the ungodly hour of eleven o'clock and the fucking racket woke me up. Not a good way to start the week.
Yes, the council are "repairing" the potholes in the lane again.
They have a new toy this time. It's a dirty great big yellow lorry with a hopper on the back and a very strange contraption on the front. The latter is a long remotely controlled hydraulic arm that swings, expands and contracts and it seems to alternately spew out some kind of gunk and then stones. The driver manoeuvres this over a pothole and it spews its whatever into the hole and then moves on.
Two hours later, they have managed to travel about fifty feet, if that. Progress at a snails-pace, which should really be our council's motto.
What the twats don't seem to realise is that they will never repair the lane. It is impossible, and you would think they would have learned that by now.
You see the lane was originally what's known as a cattle right of way. It was a essentially a mud track with grass growing down the middle. Then some bright spark had the ever so clever idea of putting a layer of tarmac on top and calling it a road. Since then it has taken some pretty heavy abuse from a lot of traffic and some very heavy lorries. And naturally it broke up. And each time it breaks up they throw some shit into the holes and hope for the best. And it just breaks up again.
There is only one way that lane will ever be fixed and that is to rip the whole shagging lot up and put down some decent foundations, because that is what it lacks – a good solid foundation.
I have just had a look at the lane post-operation.
I think the picture speaks for itself.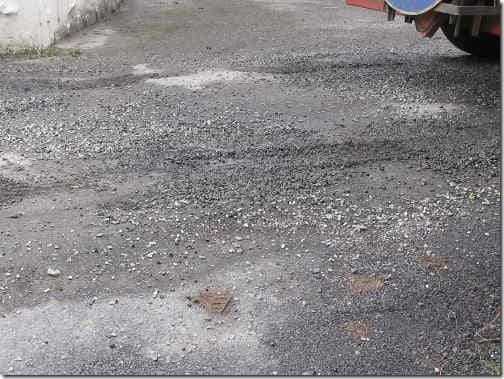 About as much use as a fart in a gale.
The only decent bit is where they laid that pipe a while ago [the squished dog shit marks the spot].
And this is what their repairs sounded like –
I'll give it less than a week before we're back to the old potholes again.