Our Penny is a strange dog.
I don't think I have ever come across a dog like her.
Apart from being incredibly lazy, incredibly fast and incredibly dim, she is also incredibly quiet.
As watchdogs go, she is fucking useless. The most she will do if someone rings the front doorbell is to laconically raise an eyebrow before going back to sleep. Yet when darkness comes, she has the strange habit of going out, sitting bang in the middle of the lawn and then throwing barks at the four quarters of the compass. Weird.
If she wants to gain our attention she has one of two methods. If she knows we are looking, she'll wag her tail. Fair enough. But if we aren't looking, she has the disconcerting habit of creeping up behind us and giving us a very sharp prod with her nose.
The nose is her weapon of choice. If I ignore her, she'll prod me. If I'm walking, she likes to walk behind me and prod each leg in turn as I stride. If she is following me downstairs, she'll do her damndest to goose me. After a long walk, the back of my legs can get quite sore. It doesn't look it, but her nose is fucking sharp.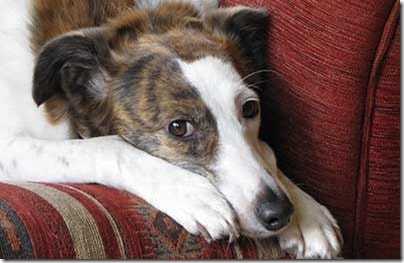 Weapon of Mass Disruption
She's at her quietest in the car. I'm not allowed go anywhere without her, but once in the car she just lies down on the back seat and I forget she is even there. The only time she comes to life is when I park the car, whereupon she plonks her arse in the driver's seat and waits quietly until I return. As soon as I return, she climbs back onto the back seat and goes back to sleep again.
Laziness personified.