For those of you who don't know, I use Linux on this here laptop of mine.
One of the little programmes that you can install is a little thing called Virtual Box. What it does is create little PCs that don't actually exist but behave as if they do, if you know what I mean. These little non-existent PCs are great for loading up operating systems that I might want to see or mess around with.
This is a picture of my laptop with Linux in the background and Windoze 7 and Windoze 3.1 also running but on non-existent machines. Clever?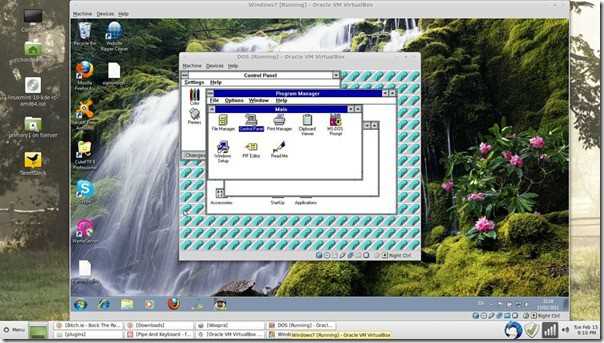 There has been a minor fuss lately about MickeySoft introducing Windoze 8. I thought I would try it out so I found myself a copy [don't ask. OK?] and installed it in one of my imaginary machines.
Well holy fuck!
For a start it took fucking ages. I had to hang around for about half an hour while it "unpacked". Jayzus but it must have spent a year in Barbados, the length of time just to unpack?
Then it started installing itself. That also took ages, partly because it kept fucking switching itself off and on again.
Finally it got around to introducing itself and assigning me all sorts of pretty colours, whatever the fuck that was about? It asked for my credentials. I told it my name. Fair enough. I gave it a password. Fair enough. It wanted my email address. What? What the fuck does it want my email address for? It refused to go any further, so I gave it an address I use when replying to those nice people in Uganda who want to send me millions of dollars. It complained. It said that address wasn't on its list. Tough fucking shit.
Then I noticed that a mail had arrived in my spam account welcoming me to the MickeySoft Live network! So I have just joined a network that I have no interest in whatsoever.
In the meantime Windoze 8 had crashed so I gave it a kick.
It went back into the routine of showing me pretty colours and I gave it my spam email address. It worked this time, and then it asked for my phone number! Why in the name of blue fuck does MickySoft want my fucking phone number?? I gave it a false one and it finally told me it was finished.
It rebooted for about the fifteenth time, and there it was – Windoze 8 in all its hideously ugly glory.
I farted around with it for a bit but it is fucking useless. You have to go all around the houses just to find any of the programmes. It insists on just showing a load of fucking squares on the screen giving me the weather in Rio de Janeiro and telling me I have no mail in my Hotmail account [which doesn't really surprise me as I don't have one]. They reckon that to use Windoze 8 properly you have to have one of these "touch screen" machines. I don't want a fucking "touch screen" machine. I have enough troubles with my keyboard without smearing up the fucking screen as well.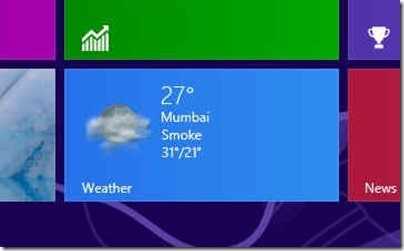 The weather in Mumbai – 27° and Smoke… Smoke?
I got tired of it not working and had to spend about ten minutes trying to find how to close it down. When I finally found the switch I noticed there were two people registered to use the machine – me and my fictional MickeySoft Live account.
I have erased my little virtual machine. Windoze 8 is back where it belongs – as far away from me as possible. It is a heap of shite.
The majority of the world's businesses use MickeySoft Windoze on their computer systems. It is no fucking wonder then that the world is in the state it's in.
Why do you people put up with that crap? Do people really queue overnight to buy the first copy? Do people really get excited over "the brand new operating system"? Do you have a secret fetish for watching little dots chase themselves in fucking circles?
Incidentally, if any of you receive a phone call from MickeySoft about a vandalised copy of Windoze 8 and mentioning my name, say Hi from me.
And tell them they are a shower of fucking chancers.