We are quite fond of books here in The Manor.
Even Penny has gotten in on the act and recently finished a copy of a Dean Koontz book of mine that she found.  It appears that she has quite a voracious appetite for books.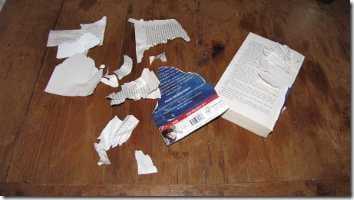 Lately I have been exploring the world of audio books.  Herself showed an interest too so I went looking for some listening matter that might calm her down.
I came across a couple of sites that provide free downloads which is fine.  The trouble is though that all the books are old and out of copyright.  There is still some great material there, but Herself started to show an interest in some of her modern authors and wanted to know if I could download those too.
I know a little bit about books.  I know they have to be written, and then edited and proofread.  That is a long and tedious process and it is common to all books.  A divide happens here though, as the book can then go down one of several routes.
It can become a paperback, where the book has to be printed off in vast numbers, packaged, shipped to the shops [who also get their cut] and finally bought by the reader.
It can become a hardback.  The process here is the same as for a paperback, but the addition of the hard cover and dust sleeve adds an extra cost.
It can become one of those "Kindle" things.  This cuts a huge chunk out of the process, as the book merely has to be formatted on a computer and that's it.  No paper.  No printing.  No dispatch.  No cut for the bookshop.  Only one copy has to be made which can sit on a server somewhere.  In other words, vastly cheaper to produce than even a paperback.
It can become an audio book.  This in theory could be the cheapest form.  In theory, the author could just relate his or her story into a microphone.  In practice however, a reader is usually employed.  However the resulting file needs no formatting to fit on a tablet or slab or whatever the fuck they call those yokes.  A single audio file is produced which can be played on any device.  Once again, no copies need be made as the purchaser will do that when they download it.
So I would imagine that the price of the book would range from the most expensive [the hardback] through the paperback and the Kindle and ending with the audio book which should be the cheapest.
Simple logic.
I am reading Stephen King's latest at the moment.  I checked the prices on Amazon.
Hardback – £12.81.  Fair enough.
Paperback – £5.35. A good price seeing as it's quite a large tome.
Kindle – £4.99.  Grand.
Audio download – £14.98?  What the fuck?  How can they possibly justify that?
I checked through a few other books and they are all the same.  In each case the audio book is the most expensive.
It would be cheaper to buy the paperback and then for me to read it into a microphone.
There again, I don't really go for her taste in books.
I'll let Penny do it.