I hate Cyclists.
Now I have nothing against anyone getting on a bike and going for a spin down to the village or even a bit further.  A person on a bike is someone I respect, and if I'm in the car I treat them with respect and give them a wide berth.
No.  I'm talking about Cyclists with a capital C, which is obviously how they see themselves.  These are the fuckers who head out in gangs, all wearing that disgusting Spandex and a bunch of fucking plastic bananas on their head.
What is that all about?  Why the obsession with Spandex?  Of all the things to wear, it is probably the least practical as it offers no protection whatsoever.  I get the impression that they are all Tour de France wannabes who see themselves in the lead as they breast the tape on the final stage.  They look fucking stupid in their multicolour skin tight plastic with bulges in places I do not want to see.
Apart from looking fucking stupid, they are in general an arrogant crowd of fuckers.  I was in the village yesterday and there was a crowd of them completely blocking the pavement [what is the collective noun for cyclists?  A mess?  An ugly?].  Their bikes were scattered on the ground and they all just stood there blocking the place and being a fucking nuisance.  I had to walk out on the road to pass them as the very idea that I might accidentally brush against some Spandex gave me the shivers.
I met them again when I was driving home.  Of course they thought they owned the fucking road – two and three abreast cycling in clumps and taking up the whole width of the road.  Would they get out of the way?  Would they fuck!  I did what I always do.
I clipped past the outer fella with about an inch to spare and blasted the horn at the same time.
He swung hard left.
The domino effect took hold.
They all ended up in a heap at the side of the road in a pile of Spandex, bananas and bent cycles.
It's a very satisfying sight in the rear view mirror!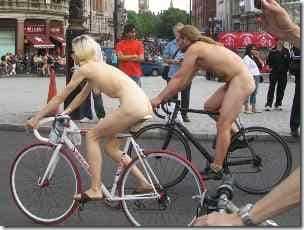 Proper cyclists.