I had a poke around Google Earth the other day.
I fire it up every now and then to see if they have improved the coverage of Ireland.  They haven't.
One thing I did notice though is that they have suddenly included my lane in their Street View thingy.  It's a bit of a misnomer as you would hardly call the lane a 'street', but that's beside the point.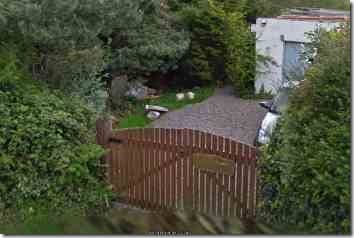 There's the Manor, or rather a corner of the garage.  The car is where I usually park it and the name sigh still needs painting.  [I must do that some year].
Now what worries me is why?
Why have they suddenly chosen to include my little backwater?
It's not as if they have re-driven all the roads taking new pictures, as I know exactly [roughly] when that picture was taken.  The yokes on the grass to the left of the gravel are part of a little building job i did years ago, and anyway you can hardly see the gate now for fucking brambles.  And the gravel is now all weeds.
So why have they suddenly included me?
Do they know something I don't?
Or maybe they have finally realised the cultural and literary significance of my humble home on the world's stage?
That must be it.