I rarely talk about religion, because frankly what you believe is your business and who am I to comment?
Every now an then though an item crops up and pokes me in the eye, leaving me with little choice.
You may remember some years ago the episode of Our Lady of the Tree Stump?  Where someone cut down a tree and some wag said the stump looked like a person?  And thousands turned up to adore the tree stump?
Well, it has happened again.
Someone cut down a tree in Belfast, and miracle of miracles, there is Jesus hanging out inside.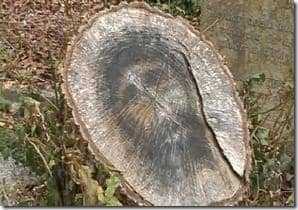 Now I do concede that the pattern does indeed resemble a bearded face but that is about it.
All the weirdos are claiming that it is the face of Jesus, but how do they know?  What did Jesus look like?  They didn't have cameras a couple of thousand years ago, and they didn't go in much for portrait painting so we really haven't a fucking clue if he was tall, slim and bearded, or a dumpy little bald fatso.  I could equally claim the stump is Osama bin Laden, or even myself in my better years.
What is it with religious figures that they have to reside in tree stumps anyway?  Surely if Heaven wanted to send a sign it could be a little less circumspect?
The gold medal for hypocrisy has to go to Father Willie Russell of Rathkeale though.
"There's nothing there… it's just a tree…you can't worship a tree," he said.
And this from a bloke who expects people to turn up daily to worship a piece of bread?