There are times when gloating is obligatory.
They have made one monumental cock-up of organising the Olympics.
They are now holding an official "urgent" enquiry as to why there are so many empty seats at the events!  They announced this to a nearly empty room at a press conference.
I can tell 'em why.
You ignore the Plebs on the ground and kowtow to the Big Corporations and this is what you get.  A fucking fiasco.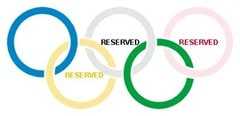 What I can't wait to see is what they decide to do at their urgent inquiry.  Are they going to get a list of all ticket holders and frog-march 'em at gunpoint into the events?  Are they going to demand written excuses and imprison those who just didn't bother their arses?  They don't seem to realise that it is far too late to do anything and the best they can hope for is to make some rules for the next time the UK hosts the games – sometime in the Fourth Millennium.
Of course there is a very simple solution.  All they have to do is fill the vacant seats with inflatable dolls.  I believe the Chinese could help them out there?
–oOo–
In the meantime, in India there are 300,000,000 who won't be watching the games to day.
A spokesman for the power company said they tried to ring the help-desk but got through to a call centre in Ireland where the bloke couldn't speak their language, had an accent so thick it was incomprehensible and hadn't a fucking clue anyway.
Revenge is sweet.