A Penny for your thoughts
We have a new addition to the family.
No.  Herself has not produced.  Not so long ago, Spanner wryly commented that if Herself ever produced anything it would be a mackerel.  I think he meant 'miracle', but for a while it provided an interesting, if somewhat disturbing mental image to play with.
I digress.
I would like to introduce you all to Her Highness the Right Honourable Lady Penelope Ponsonby Smallpiece.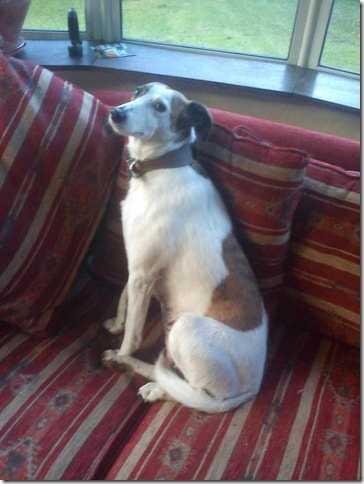 If you think I'm going to yell that name out last thing at night to call her in, you have another fucking think coming.
I think I'll call her Penny.
She is not a substitute for Sandy as no dog fill that role, but she needed a home and we have one going to spare, so it seemed like the right thing to do.
I don't know what she is.  Her papers call her a Collie Cross but I don't think so.  I think there is more than a twinge of Lurcher, with a smidgen of Whippet coursing through her veins.  One thing she excels at is speed.
She is extremely affectionate which is a problem as I keep tripping over her, as she will insist in rolling on her back just in front of me as I'm walking.  On the down side, she seems to be a water dog as I let her out this morning and she obviously went for a swim in the lake as she reappeared, sopping wet, muddy and trailing a lily leaf.
She is about two years old and has a puppy, but the puppy just bullied her around so he had to find a different home.  I know how she must have felt.  Fucking offspring!
You shall probably hear a lot more about Penny as we have a very long journey ahead of us.
I have to teach her to type, drive a car and terrorise tourists, and that's just for starters.
It's going to be a long road.