Tying Sinead O'Connor to my wall
Yesterday I went to do a simple job in the garden.
A climber had broken its moorings and instead of growing vertically up the wall, it was now growing horizontally across the terrace. Climbers are supposed to climb [the clue is in the name] so I had to tie it back up again.
I went to haul it back up but it was too fucking heavy. I attacked it with the shears. Having given it a haircut that would have done Sinead O'Connor proud, I had to find some way of propping it against the wall so I could tie it.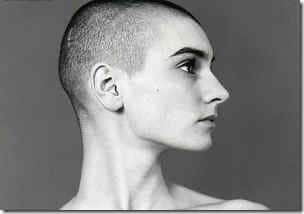 Roughly how my climber looked
after its haircut
I decided to use an extension ladder.
Now the ladder is stored in the back yard along with some other junk and it's a couple of weeks since I ventured there. The fucking place was full of ferns, ivy and trees. Two trees [a birch and an ash] were actually growing through the rungs of the ladder. This, incidentally is an excellent way of securing your ladder against theft, but it doesn't work too well if you need to use your ladder too often.
I set to clearing the wildlife out of the yard.
Having removed the trees and hacked out most of the ivy I decided to replant a couple of the ferns in another part of the garden. This meant clearing a patch of clear soil which required quite a bit of effort.
Having planted the ferns I then had to remove all the ivy that was growing up the back wall of the house. If I don't it tends to grow in through the windows. And anyway it was growing through the ladder along with the trees.
Having cleared the yard, planted the ferns and removed the ivy I was able to get at the ladder.
Using the ladder, I propped up the climber and strapped it back onto the wall.
I then realised that the terrace was buried under climber-cuttings.
To cart away the cuttings I had to pass through a gap in a hedge which is of a very thorny variety. but the hedge had grown a bit lately so I had to cut that back before I could get the wheelbarrow through to clear the terrace.
The climber is now climbing once more.
It had better stay there if it knows what's good for it.
Next time it falls, it's an ex-climber.
Simple job, my hole.