The other evening I watched as Aung San Suu Kyi made her brief visit to our blighted shores.
For a very long time I have been a great admirer of hers and I was delighted to see her getting out and about.
I have a big question though.
What the fuck was that twat Bono doing there?  Every time I looked, there he was shoving her around or dragging her along.  It became a game – "Spot the Cunt" – but the game was too easy as he was always there.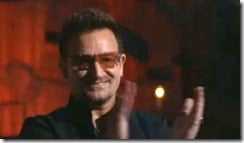 I have no time for that bloke.  His only real talent is for making money and avoiding tax on it.  He can't sing, and that's for sure.  He's a screecher.
So this bloke who in my book is a third rate pop singer seems to think that either fame or shedloads of money gives him the God given right to meddle around in politics and give orders to the worlds leaders?  What qualification has he that entitles him to decide what is good and what is bad?  What saintly qualities does he have to meddle in world affairs apart from a big mouth?
Even worse, why do they let him get away with it?  He has the gall to lecture them about Third World Debt while he does his damndest to avoid paying taxes in his own country [which is very much Third World at this stage].  Why the fuck don't they set the bouncers on him?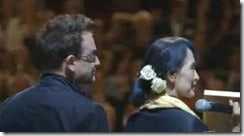 Personally, if I were Aung San Suu Kyi, I would have demanded to go back into house arrest to get away from him..
Or maybe it was he who actually saved Burma from dictatorship?