Irish Blog Awards nominations
I see that nominations are open for the Irish Blog Awards 2012.
The awards themselves aren't until next October so they are allowing quite a run up.  They also seem to have added a rake of new categories.  Thirty, for fuck's sake!  I doubt there are that many sites left running these days.
Anyhows, as far as I am aware the rules are much the same as always.  Anyone worldwide can nominate a site for any category, but the site itself must be Irish [or written by an Irish person].
Don't ask me about the finer details of the rules and regulations though.  They do have a page that sort of explains it all.
That's about it.
They even include a little image so people can beg and grovel for nominations for their efforts –
Naturally I won't use that image as I'm too modest.
I dunno if I'll be going to the awards myself.  A lot can happen in four months. 
I thought I would include a photograph of myself though, so if I do make it to the ceremony, you might want to know what I look like.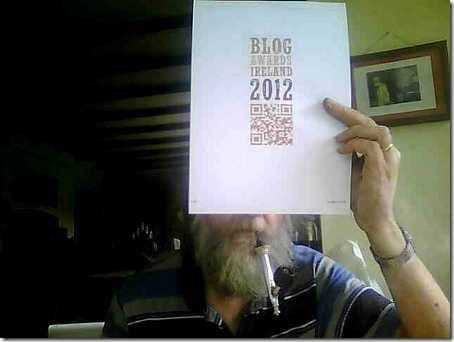 I notice I accidentally included a picture on the wall.  It's the wee portrait which appears on the top of this site.
So it's a sort of self portrait of a self portrait.
Heh!