As I write this, the Olympic Torch is being carried around Dublin.
Be still my beating heart!
Of all the weird stuff, such as the supposed bits of saints or some fucking sporting trophy, this has to be the weirdest.
Thousands Hundreds Dozens are lining the streets to see some twat run past with a giant cigarette lighter.  What the fuck is all that about?  Have none of them seen a flame before? 
Of course those two fucking idiots have to get in on the act.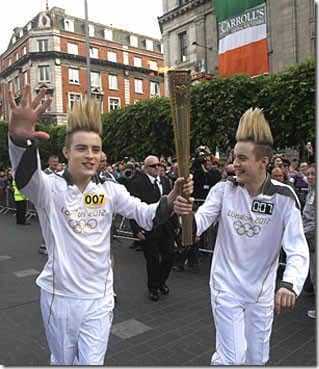 I am no great lover of the Olympics.  I find the whole thing rather tedious and boring.  I just cannot see the joy in watching people run in circles around a racing track, or trying to lift something that is a microgram heavier that the last successful attempt.  What is the point?  Why don't the runners catch a bus if they want to get there quicker?  Why don' the weightlifters use a fork-lift truck?  It's a lot simpler, better and more efficient.
Probably the weirdest aspect of the whole circus is the sponsorship.  You get companies like McDonalds or Cocoa Cola or someone who have fuck all to do with health proudly proclaiming that they are "official sponsors" whatever that means.  Have they paid for the games?  I doubt it.  The games were paid for by the poor shmucks in the UK who not only don't get a sponsorship mention but are effectively thrown out of London while the games go on.
Back to the torch business though, I can't help but wonder what the point is of carrying a flame around the place.  I can have a flame any time I want at the flick of a lighter, so it's not exactly a novelty.  And don't tell me that the flame is a descendent of the flame lit on Mount Olympus because I can guarantee that it has gone out and been relit with a good old Bic or Ronson many times since then.
I read a quote today from the Olympic Council of Ireland president Pat Hickey [nice job if you can get it – you only have to work every four years] – "We will never have the Olympic Games in Dublin and the nearest we are ever going to come to it is the London Games. To have the torch relay in our part of the island is quite unique and historic, and I think in years to come people will look back and say 'that must have been great'."
I'm sorry Pat, but it is fucking great news that we will never have the Olympics in Ireland.  We would have to spend billions on building a new town [dunno why the fuck they call it a "village"?] which would then remain a monstrous eyesore for many years after.  And calling the idea of running around the streets with a flame "historic" is slightly overblowing the event.  People will have forgotten about it by next week, so the idea of people giving it a retrospective thought is a tad optimistic.  And while I think of it, if we are never going to hold the Olympics here then there is no need for an Olympic Council of Ireland president, so fuck off Pat.  Go get a real job.
Right now, I'm going to hold my own little Olympic Flame event.
I'm going to light up my pipe, sit back and relax.
And I don't even need a crowd to watch me do it.