I bought a new mouse yesterday.
I'm talking about one of the electronic clicky things, not one of the lively, grey, furry, squeaky things.
It's a basic one.  It's about as basic as they come – two buttons, a little wheel in the middle and a wire to plug it in.  It has to have a wire, otherwise I'd lose it.
I unpacked it when I got home and to my surprise and delight I found three enormous sheets of reading material.  I was running short on books so this was is a Godsend.
This is just one of the sheets, and because it is a two dimensional photograph, you can't see the back of it which is just as full of small print and diagrams.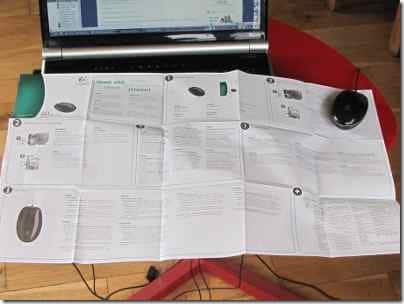 That shiny thing at the top right is the new mouse, in case you don't know what I'm talking about.
I read through the whole thing [It's called "Quick-start guide"] as I didn't want to miss any features the mouse might offer, such as being able to do all my typing for me, or being able to make a mug of tea.
I finally found the Setup instructions, at the top right corner.  I quote:
1. Turn on the computer.

2. Plug the mouse cable into the USB port and wait until the system default driver is installed.

Congratulations!  You can now enjoy basic mouse functions such as left- and right-mouse button click and up and down scrolling with the wheel.
Now amn't I damn glad I read the instructions?  They even showed me two photographs of a computer which indicated an on/off button and where the mouse should be plugged in.  It wasn't a laptop in the photographs, which caused me some confusion, but by trial and error, I found the on/off button and the socket.  They were the same on/off button and socket that I always use which was a bit of a let-down.  I expected something new and exciting. 
One of the other sheets is even bigger.  It is called "Important instructions".
I'll read that later.
The mouse has just boiled up a fresh kettle of water for a nice mug of tea.