The lighter side of growing old
I had a birthday last month.
At my age, birthdays are not exactly a time of celebration – they remind me too much of the fleeting years.
Herself did however give me a wee present which was not only unexpected but rather touching.  She got me a lighter for my pipe.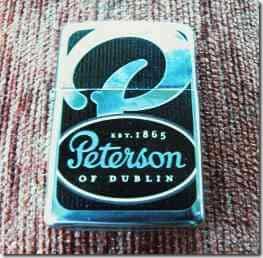 It's one of those Zippo ones which uses fuel and flints, which means it should last a fair while.  On top of that, it is a special one for pipes, so the flame doesn't quite shoot straight up, and to get the best you have to hold it sideways, so the flame comes out at an angle.
She even had it engraved which is quite touching.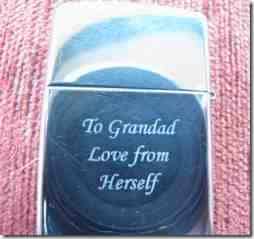 I haven't quite gotten the hang of it yet.  Flints are no problem except that the ones in the local shop are extra long and therefore quite fiddly to fit into tight confines.
I also have to fill it with fuel quite a lot.
I have yet to come to grips with pouring in the fuel.  A pipe smoker tends to use a lighter a hell of a lot more than a cigarette smoker, and I find I have to top it up every day or so.  And even with all that practice, I always manage to pour fuel all over my hands in the process.  This makes the first light after a refill quite a spectacular event, as there is usually a faint woof noise and the lighter, my hands and anything else in the vicinity vanish in a ball of flame.  So far I have lost all the hair on both hands and have had to shave off half my beard [I hate the smell of burning hair].  And you know all those reports about the Aurora Borealis being visible over Ireland?  Forget that – it's just me refilling my lighter.
Now I have to find out how she bought it.
I could have sworn I had blocked Interweb access to anywhere she could spend hard cash.
Now I have to start all over again.
Bugger!