Oh dear!
Oh dear, oh dear, oh dear.
We are all dead.
I discovered on my wanders that apparently all processed meat is too dangerous for human consumption.
Do you like a drop of bacon?  Are you partial to a sausage? [be quiet down the back there and stop the smutty comments – this is serious]  Are you fond of a slice of salami?  How about a bit of pepperoni on your pizza?  If so, you are already dead, even though you may not have realised it yet.
You see, these all contain sodium nitrite which as we all know is a rocket propellant [when it isn't being used as a smoke bomb or fertiliser].  This stuff is absolutely lethal, and as The Righteous keep telling us – THERE IS NO SAFE LEVEL.  Every day, millions of people around the world are dropping dead and now we know why.  This also explains why thousands have inexplicably gone into orbit.
It isn't the cigarettes.  It isn't obesity, alcohol or salt. They pale into absolute insignificance compared to this mass exterminator.  If you have any of these toxic substances in your house, you must evacuate immediately and call the National Emergency people.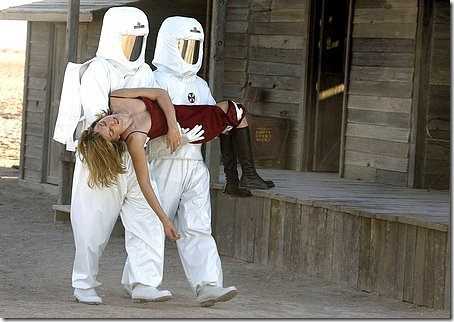 All she wanted was a bit of sausage
Truly we live in very dangerous times.