We used to have a regular visitor here at The Manor.
A heron used to come and rob all the fish in the lake. Cheeky bastard.
I christened him Bertie Aheron as there was a certain similarity in the beady eyes and the sneaky approach to life.
I haven't seen him in a very long time and I sometimes wonder what happened to the thieving duplicitous little cunt. I also wonder what happened to the heron.
I was up at the crack of dawn this morning [it may even have been as early as ten thirty] and the first thing I saw out the window was Bertie [Aheron, not the other little shit]. He was standing there in the middle of the grass looking somewhat frustrated. And well he might, as I got tired of restocking the lake ages ago, so the only thing he'll find in it now are some snails and an old supermarket trolley. A lake isn't a proper lake without a supermarket trolley.
I presume he was a descendent of the original Bertie, as I believe they have a lifespan of only five years.
I managed to shoot him.
Unfortunately I didn't have the rifle to hand [why can you never find a rifle when you most need it?] so I shot him with a camera instead.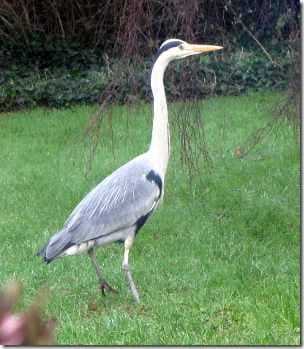 That is a magnificent specimen of Ardea cinerea?
What the camera failed to capture was another magnificent specimen – Canis Sandii – who was at that moment travelling in the direction of the heron at about 150 miles per hour.
It was the fastest fucking take-off I have ever seen.
Anyone want some heron feathers?