Many years ago I bought a clock.
It one of those wall hanging clocks that I believe is called a short case clock, or a granddaughter clock.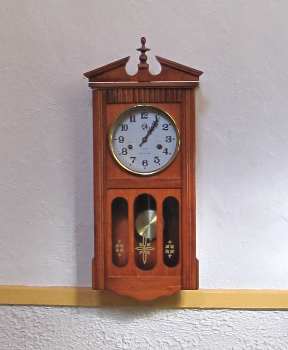 I bought it for three reasons -I liked the look of it, I needed a clock for the sitting room and I was pissed at the time.
One of the unusual things about the clock is that it is driven by clockwork.  Ne'er a battery or chip to be seen anywhere.  All it requires is the occasional wind and off it goes.
All these years it has been hanging on the sitting room wall, gently tick-tocking away and telling the time with a remarkable degree of accuracy.  Of course it stops occasionally as I sometimes forget to wind it, but that is all part of its charm.
When we came back from the wee trip to France last month, I noticed that it had stopped.  That was no problem – I wound it up, gave the pendulum a belt and left it.  Some hours later I discovered it had stopped again.
Bugger!
When I was a nipper there were loads of shops that could fix a clock or a watch.  Virtually every jeweller had a bloke employed purely to fix anything clockwork.  In fact I have strong memories of a clock shop in Johnston's Court off Grafton street.  It was a haven for horologists, with wall lined with clocks all ticking quietly away and chiming in unison.  I loved visiting that shop, preferably just before ten or eleven in the morning or at midday.
Nowadays of course everything is driven by batteries, and the art of fixing a clockwork mechanism is virtually dead.  If I lugged our clock into the local jeweller they would laugh at me and tell me to buy a new one.  No fucking way!
Yesterday I brought the clock to the kitchen table and dismantled it.  In no time the table top was covered in clock parts, screws too small for the naked eye, springs and dozens of little brass cogs.  It was a beauteous sight to behold!
I cleaned and oiled everything and set about reassembling it.  I actually achieved that without a single screw left over which is a miracle in itself.
The clock still wouldn't work.
I dismantled it again and delved even further into its guts.
In the end, I got tired of it, so I reassembled it again and hung it on the kitchen wall, with every intention of working at it again today.
No need.
Since I hung it, it has been telling perfect time and chiming merrily on the hour and half hour.
I did notice there was one problem though.
The last time I assembled it, there wasn't a single extra screw.  Every piece had been put back in place.  But somehow I had lost a vital piece of the clock.  I have searched everywhere for it but it is definitely missing.  Maybe the dog ate it?  Maybe herself chucked it in the bin?  I don't know, but I can't find it anywhere.
Somehow, I have managed to lose its gentle tick-tock sound.