I have mentioned the Interweb "connection" here once or twice.
The reason I am mentioning it again is that dozens [OK, a couple] of you have written to me via email, rather than via the site.  I haven't replied for the simple reason that I can't.  Well, I can but it's a bit of a nightmare.
The connection here is a bit of a joke.  I can connect but only if I am sitting within a couple of feet of the front door.  Anywhere else and the connection breaks.  If I try to put any stress on the connection, such as trying to watch a video the fucking thing disconnects.  On top of that it doesn't treat all sites as equals.  Some sites I can get into quite quickly but others cause problems.  This site for instance takes an age to load.  If I try to add a comment, it can take up to five minutes.  Google occasionally ceases to exist and I get a message asking me if I have correctly typed 'google.com'!
Mail, for some strange reason just doesn't work.  I can receive mail all right but sending is just not on.  No fucking way.  It just whines that it can't find the server, so I haven't been able to reply to the dozens [OK, couple] of emails that I have received.  Sorry about that.
Even if I do manage to keep the connection alive [basically by not using it] it is fucking SLOW.  And I really mean SLOW.  I tried measuring it and I swear the results are wrong.  They couldn't be that fast?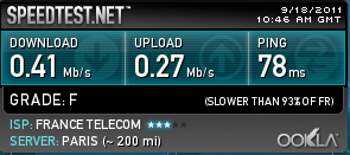 It took me fifteen minutes just to get that image inserted!
So if any of you are waiting for a reply from me, I'm afraid it just ain't gonna happen.
At least you now know why.