Books and duck and things
I didn't scribble much here yesterday because it was kind of mizzly outside.
As the fates would have it, I was in a writing mood, and when I'm in a real writing mood I don't waste my time here.  Oh no.  Yesterday I made a ferocious dent in The Buke.  Remember The Buke?  The one I have been writing for years and never getting anywhere?  I made a bold decision yesterday and deleted the fucking thing.  Started again from scratch, I did and it is trotting along very happily.
Until today arrived.
Today was one of those days I dream about during the long Winter.  An azure sky withe ne'er a cloud to be seen.  A light breeze just to prevent it getting too hot.  Not a day for playing with The Buke.  We went for a bit of a drive after the sun had burned us to a crisp.  We found a lovely waterside restaurant that actually has my favorite item on the menu – Confit de Canard.
The place wasn't open, but we'll be heading back at the appropriate time [whenever that is].
Already I have seen my main course just beside the restaurant.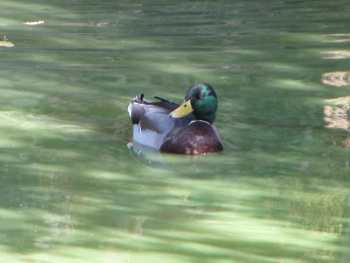 Raw Confit de Canard