I was pottering around the garden here today when I found something.
At first I thought it was just a darker than usual shadow under a weeping willow, but then I looked closer.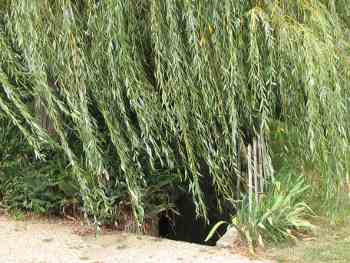 In fact it was a hole of some kind.  Underneath a weeping willow seems to be a strange place to have a hole and what's more it was a strange shape.  The floor of it sloped steeply downwards and curved around towards the tree roots.
I went down.
At the bottom there was a door which I pushed.
It was open.
What I saw was a tad surprising.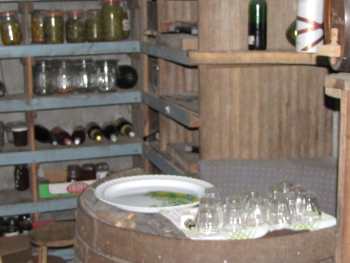 Yup.  There beneath the ground, under a weeping willow was a fully stocked bar complete with glasses, wine, beer and whatever-you're-having-yourself.  I grant it was fairly small.  It was also nice and cool, and being underground, it was dark, but electricity is laid on and fully functional.  Not a single no-smoking sign anywhere.  All it needed was a Hobbit or a Womble asking me what my pleasure was.
I very rarely suffer from jealousy but I am really fucking jealous.  I want one and I want it badly.
Now I have to work out where an underground bar can be discreetly concealed in Head Rambles Manor.
I can see I'll have a busy time when I get home.