I had a bit of a chuckle today.
I was flicking through the sites I read, and came across a nice piece of comedy on Dick Puddlecote's site.
Apparently Ryanair have produced their annual charity calendar and Mary Honeyball [MEP] is objecting.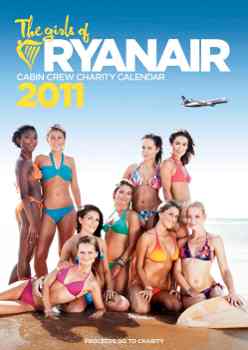 What's so funny about that, you ask?
She states that he is producing the calendar to increase profits. [All proceeds go to charity]
She says that the girls are coerced. [The girls were chosen from 700 volunteers]
She says the girls are now at risk as their names and addresses are published. [D'ya hear that, Mary form Dublin? We know where you live]
She says a lot of other things that are so fucking off the wall that it is hard to believe that she is serious.
One of the funny elements of this little spat is that Honeyball actually posts two interviews on her own site, here and here. The second one is particularly funny as she goes head to head with Michael O'Leary. In each interview, I get the imprssion that the interviewer [who is supposed to be impartial] is having a hard job keeping a straight face.
There is one aspect to this bit of comedy that concerns me though. This humourless, politically correct biddy is a fucking MEP. Yes. She is a Member of the European Parliament. This is the caliber of pesron who helps make decisions that are binding on all Europeans. I didn't elect her, and I have no voice in the matter as she is in the U.K. This narrow minded bigot actually can influence laws that are binding on me.
The sooner that EU mostrosity dies, the better.