Looking after the elderly
During this little chilly snap, there are frequent reminders for people to check on their elderly neighbours.
Fuck that. I haven't seen sight nor sound of any of my neighbours in ages. How fucking inconsiderate can you get? I could be frozen solid for all they care. Bastards.
So it's just me and Sandy [and Herself, I suppose] fending off the elements by ourselves. I have been feeding the fox and the birds as I like to think I am a little more considerate of wildlife than my neighbours are of me. Bastards. Actually, the birds are remarkably cheerful, and I heard a blackbird ripping forth with his best Summer Song yesterday. I have a sneaking suspicion that I may have fed them the wrong seeds.
I ran out of some essential supplies so I had to go down to the village today. Do you think my neighbours would offer to go for me? Not a fucking chance. Bastards.
It wasn't too bad out there. It was fucking cold, but I suppose that is to be expected, what with the cutting wind, the blast of dry icy snow and the sub-zero temperatures.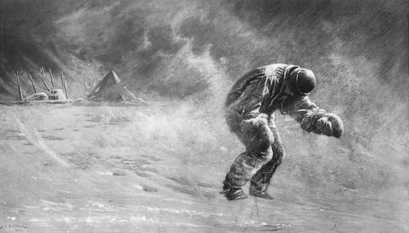 I made it back in one piece. In spite of falling a few times, I managed to get home without breaking any bottles of whiskey essential supplies. As I arrived at the gate, one of my neighbours was driving past in his four wheel drive. He asked if I wanted anything from the village. I told him to fuck off and that he should have asked me earlier.
Bastard.