I had to go out yesterday, but before I got there I had to pass through the front door.
I found this lying on the floor under the letter-box.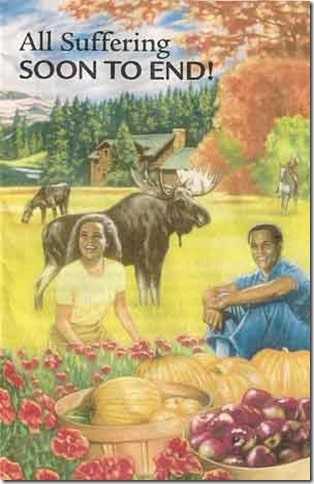 It gave me a little turn as my first thought was that it was a suicide note, and I had this uncomfortable feeling that I was going to open the door and find a corpse, either hanging from the gutter, slowly twisting in the wind, or else lying on my lawn with its brains spoiling my nice crop of nettles and thistles.
On closer inspection I realised however that it was a pamphlet from some bunch of God Botherers.
Jayzus but it was miserable reading! 
"For thousands of years, the human family has suffered greatly from wars, poverty, disasters, crime, injustice, sickness, and death. The past hundred years have seen more suffering than ever before. Will all of this ever end?"
Their wee missive was a morass of this misery.  For a bunch who claim to be so fucking happy, they sound pretty miserable to me.
Their idea of perfection has me a little confused too.  Do I really want to spend eternity living with a couple of indeterminate origin but politically correct people?  Do I really want a fucking moose shitting all over my lawn?  Quite frankly, it looks a bit American to me and I don't really want to spend eternity listening to American accents and moronic American idioms [doubtless the couple spend their days telling each other how awesome heaven is?].
I have one little problem with these God Botherers.  For as long as I can remember they have been telling me that the world is about to end and that I had better mend my ways immediately.  It reminds me of the "jam tomorrow, jam yesterday but never jam today" bit from Alice in Wonderland.  For sixty years, the world has been ending tomorrow, and it hasn't happened yet, so they can fuck off.  I'm going to carry on having fun.
I have reasonably well defined beliefs of my own.  I won't bother you with my philosophies, as there is nothing worse than someone inflicting their religious zeal on others.  It has taken me six decades of soul searching, debate and argument to get to a point where I am content with my own little 'religion'.
I can't imagine how they expect a piece of paper to change all that?