I don't think I have mentioned John before.
He came to live with us a few years ago.  He just turned up one night, and has been here ever since.
He's an extremely quiet chap.  In fact, Herself has never even seen him, and I only see him occasionally.  He pootles around the place at night, and I have never seen him during the day.
The only time I know he is around is when Sandy finds him.  I put her out for her last piss of the night and next thing there is an almighty racket from the garden – a sure sign that John is on his nightly perambulations.
Sandy is an extremely intelligent dog, and quickly cops on to most things in life.  John however has her baffled.  She sees him as a tasty bit of prey and goes on the offensive.  John, being also quite intelligent, goes on the defensive.  And when John goes on the defensive he is pretty much indestructible.  Sandy hasn't learned this yet, so she dances around him and then lunges.  The resulting sound is a sort of "woof woof woof YIP!"  This is repeated ad nauseam until I go out and rescue her.
You see, John is a rather large hedgehog, and when on the defensive, he is essentially a large ball of pricks.  Pricks don't feel very nice to a sensitive nose, apparently, hence the YIP part of the bark.
I tried to photograph him the other night.   This wasn't as easy as it sounds as it was pitch black out there, and it was a case of shooting off the camera in the general direction and hoping I caught him.  After several attempts, I eventually did.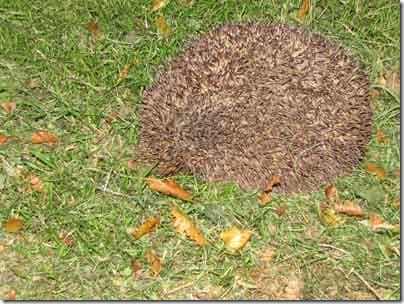 Now, I know the photograph looks a bit like one of those colour-blindness tests, but I can't help that.  If you are colour blind you probably won't be able to see him, but take my word for it – he's there.
Why do I call him John?
Well, I was all for calling him Sonic, but he took grave exception to that.  He told me his name was John, and who am I to doubt him?
So John he is.