I do not like wasps.
They are nasty, useless little creatures whose only function in life is to irritate me and to inflict pain.  They are a lot like Brian Cowen, actually only they are a little easier on the eye.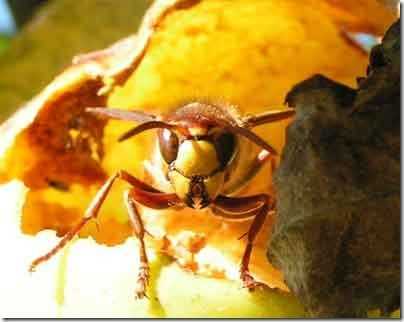 Living in the country, we have a lot of wildlife around the place, and I won't kill any of it, apart from wasps.  As far as I am concerned our relationship can only end with them smeared across the window.
Some years ago, I had some problem with a wasps' nest in the neighbours eaves.  It was a fucking huge one, and was difficult to remove.  I managed in the end by smoking them out.  When the neighbours rebuilt the house after, there wasn't a sign of the wasps.
The little fuckers are back.
It 's a relatively small nest, but it happens to be in the place where I run cables into the house through the eaves.  This means the little bastards have easy access to the outside and the inside of the house.  They are a dopey lot [again, a lot like Cowen] and just potter around waiting to be swatted.  The other day, one crawled inside my shirt and then just happily sat on my chest until I got around to swatting it.
I'm waiting until this evening when it starts to get dark.  They are even dopier around that time apparently [a bit like Brian Cowen].  I am then going to empty an industrial sized can of wasp killer into the hole.
That should do the trick.
I just wish it was as easy to eradicate Brian Cowen.
-oOo-
A bit of an update
I just went out and sprayed the nest.
The little fuckers just won't take the hint.
They know they are not wanted but they insist on hanging in there.
That reminds me of someone?
Oh yes.
That shit Cowen.